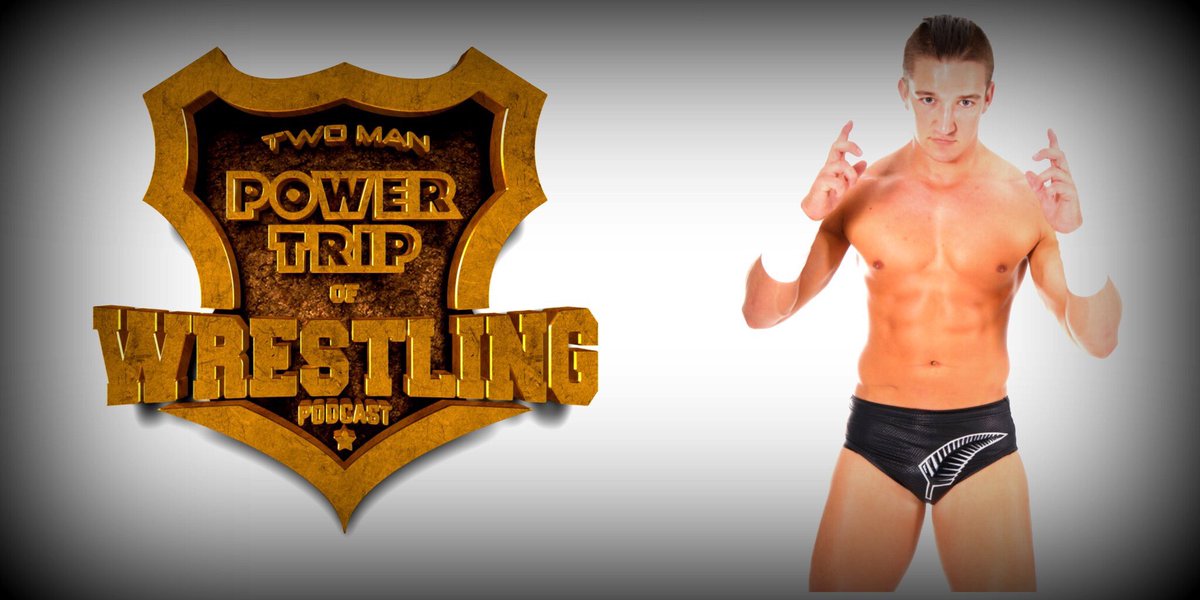 Episode #234 of The Two Man Power Trip of Wrestling features an up and coming star of both Ring of Honor and New Japan Pro Wrestling, New Zealand's
Jay White
. In the following excerpt White discusses how he was able to get a spot into the famed New Japan Pro Wrestling Dojo and how WWE Superstar Finn Balor played a huge part in connecting him with what would be his main contact to break into the Japanese wrestling scene. We also get a first hand account at what it is like to train in the Dojo and how a "foreigner" is treated by the Japanese talent and trainers. The full episode is available for download at this link.
Full Episode Download Link:
https://www.podomatic.com/podcasts/tmptow/episodes/2017-01-16T21_00_00-08_00
Jay White On Showing Respect Inside The New Japan Pro Wrestling Dojo:
How did he get into the New Japan Pro Wrestling Dojo and Finn Balor's (Prince Devitt) involvement:
"I had gone to England since 2013, a year later in February 2014 we had Prince Devitt or "Finn Balor" however you want to refer to him. We had him come over and do three of ours shows for VPW and after the three shows he gave me his card and said to stay in contact. He went back to New Japan and then talked to Bad Luck Fale (seeing his is from New Zealand as well) and Fale messaged me and said it would be cool to meet up one time and fast forward a few months and Rev Pro had booked Bad Luck Fale, Devitt as well as Nakamura to come over and do a show. When I saw that I messaged Devitt and asked if it would be cool for me to come up and see him again and meet Nakamura and Fale. I took a train up to London and went out that night, had a few beers with them and actually I met Zach Sabre Jr. for the first time as well that night. Basically from there I stayed in contact with Fale through Facebook Messenger and he (basically) did the work behind the scenes at New Japan and I just had to send the the right stuff over. Then he said he got me a spot in the Dojo, to pay for myown flight and get here for this date."
What he thought the experience would be like:
"I had no idea what to expect. I didn't know if I was going to have a match, if I was just training and really had no idea what to expect. I wasn't sure if I was getting paid or how long I was going to be there for so when I got to Japan I just had to learn everything as I went."
What is the training like inside the actual NJPW Dojo:
"It's intense. I got there the day before him but me and Cody Hall were starting at the same time except since I had to pay for my flight, I got the cheapest flight and landed a day earlier whereas he (Cody) got his paid for and landed the day after. The first day I was there and got to train with the Japanese guys (being the only Gaijin or Foreigner) is a bit intimidating. "Young Boy" training is on average about three hours. It is going to be boiling hot whether it is Winter or Summer because in the Winter they put a gas heater on and all windows are shut and it takes about ten minutes and you will be sweating in there. In the Summer they don't have the gas heater on but it's just like a hot-box in there. It is pretty intense with a 1,000 squats or 500 if you are lucky to start off and a bunch of cardio, a whole ton of press-ups, sit-ups and that is just without the actual wrestling training of just bumping and going over all of the basics. I'm fortunate to have wrestled for about two years prior so I had the basics pretty much down and it was easy compared to Japanese "young boys" who are starting out from scratch there."
Showing respect to the business inside the Dojo:
"I had tried to make sure that I'd just basically be the same way and that is what I got told to do by Fale because like I said he was like my mentor and made sure I was on the right track. If I seemed like I was too relaxed or anything at all he would have a word to me and made sure that I'd keep on top of stuff. You don't want to disrespect anyone but being a Foreigner over there the older boys are relaxed with you a little bit more and I don't think they are as hard on you as the Japanese guys so it can be easy to kind of relax and almost be friendly with them but remember at the same time say that I know I am here to be a "young boy" and not take for it for granted basically and that is what Fale would say to me. Even if the guys are friendly, you are still here for work and still are a young boy. All of the guys are pretty cool so you wouldn't mess it up too bad and you would be alright in terms of not disrespecting anyone."
All of the past interviews from The Two Man Power Trip of Wrestling can be found by subscribing to us on iTunes, Podomatic, Tune-In, Player FM as well as visiting our website www.tmptofwrestling.com. Also follow us on Twitter @TwoManPowerTrip