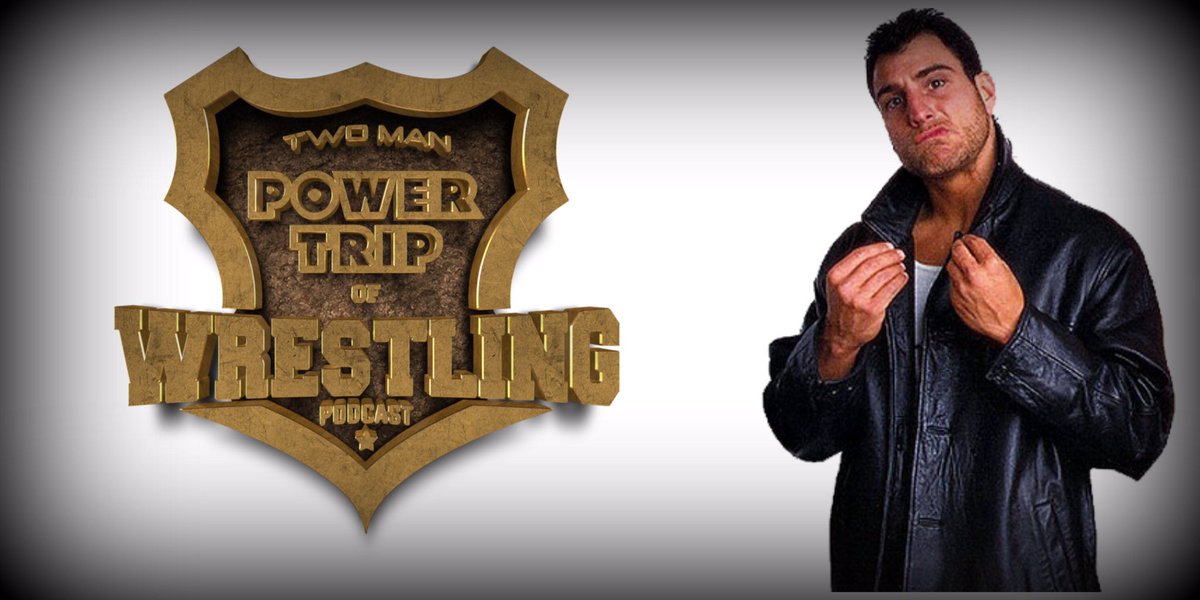 Fresh off the controversial episode of Two Man Power Trip of Wrestling featuring ECW Original CW Anderson, John and Chad go back to the land of extreme with another original and former 2x ECW Tag Team Champion - FBI Member,
Little Guido AKA Nunzio
.
**Nunzio will be appearing at Primal Conflict Wrestling's (www.primalconflictwrestling.com) 10 year anniversary event DOMINANCE this coming Saturday night in Harpers Ferry, WV.
In this excerpt Nunzio shares his memories of first meeting Paul Heyman and Heyman's inspiration behind the "Little Guido" name as well as how WWE's Cruiserweight Division has evolved from the time he was WWE Cruiserweight Champion. The full episode can be downloaded at this link.
Full Episode Download Link:
https://www.podomatic.com/podcasts/tmptow/episodes/2017-02-27T21_00_00-08_00


Nunzio On WWE's Cruiserweight Resurgence, The Division During His Time, Being Champ:
Nunzio On Becoming Little Guido In ECW, First Impression Of Paul Heyman, Hardcore Wrestling:
ECW's Lasting Impact:
"Whoever knew we were going to be a part of history? ECW I think made history and they changed the business. When I was there and we were doing it we never realized we were going to be history and look people still talk about it today. When you are in such small buildings and the crowds are so passionate that they chant who they want it is great while it is happening. It's not like I had ever watched that happen before and wasn't part of it, I was there when it started to happen and all of a sudden was happening. It was great to be there during that time."

How he met Paul Heyman and Heyman's inspiration for "Little Guido":
"The first time I met Paul it was in Reading, Pennsylvania at a house show and I go up to him and I go in and I see Tom (Tommy Dreamer) and I go to Paul and say hey, how are you doing I am Damian Stone and his first words were "I know who you are". Paul knows who everybody is and Paul probably knew and used to watch me because ECW was on TV when it was Eastern Championship Wrestling and he probably knew it from then but I didn't know that. Pauly also ended up living twenty minutes from me and still does live In Scarsdale and I live in Rockland County so when we started talking, we actually started traveling to the shows together (me, him and Tommy Dreamer)."
"I worked as Damian Stone for like a month or two and Pauly was always saying to me that I remind him of Joe Pesci and that he wants me to be this little fighter and we were talking about it and talking about. One time I showed up in Lost Battalion Hall and they were introducing D-Von Dudley and doing TV and they had JT Smith go out there and get hit in the head with a frying pan and I went out there and was now supposed to be his cousin. That was my first match as Little Guido and that is how we introduced it at Lost Battalion Hall, JT Smith came to the ring and did his spiel and I came in and tried to convince him that I was his cousin from Italy."
The FBI's Role in ECW:
"They used us as utility men. Utility men get a longer run, that is why I was in WWE for eight years and I was in ECW for six years. Sometimes it is good to be the utility man because sometimes you get a longer run than if they want to push you to the moon and it doesn't work out when they can't do nothing else with you. But I knew my role. You can be comical, you can be serious, you could do anything. In WWE during Christmas time they would dress me as an elf or Santa Claus because it is anything they need. If you need to you go out there and get squashed out and make a guy that can't wrestle at all look semi good or you can go out there with a guy like Rey Mysterio and go out and have a great match with him. You are more or less like a coach. Look at Steve Lombardi, he was a utility guy or like Barry Horowitz. These are guys that can go out and have good matches with anybody. The company needs guys like that."
WWE's emphasis on Cruiserweight matches and how the division was used during his run:
"Half those guys that are there now I wrestled on the independents when I left WWE. When I left WWE it was Tony Niese and all of the guys that are there now. I love Tony and I love watching them and am glad they are there. They are great talents and they belong there. Tony Niese belonged there three years ago. I see what goes on with them and I think it is good. When I was there we always thought the Cruiserweights should have a part in the show and unfortunately you were right we were on Velocity and Heat and we were on Smackdown here or there. It just goes to show you that as time goes on things change. What they (205 Live) took is kind of the spot that ECW was in when we were going on at 10pm on SyFy which is hard to do. They tape a few matches before the main show goes on, after the main show goes on the air for two hours and you go on live at 10pm and it seems like they got that spot. They've got to work even harder because that crowd has seen a lot of sh*t. They just watched Smackdown Live, watched a couple of dark matches before and now they have to go out and follow all the big stars that they saw. So it is actually a hard spot but I think they have been doing a hell of a job. I watch it, see what they are doing and I am glad they are getting a time to shine."
The ECW reboot of 2006:
"At the time I was happy that it was coming back. In the very beginning supposedly Pauly was going to have his hands in everything and it was great to see Balls Mahoney and Danny Doring and all these guys get jobs. At that time a lot of the guys weren't getting TV time so it was like another avenue. Unfortunately, it didn't work out but I had high hopes for it but it was just something that went on for about a year and it was hard going on at 10pm like I said with the Cruiserweights that it is a hard thing to do."
"It is very hard to rekindle something and what we did down in Philadelphia back in the early 90s wasn't planned. It happened. So when something as great as it was happens and as passionate as the fans were about it to try and bring it back ten years later and back then fans didn't always see people get thrown through tables and the sh*t that we did then was new. In 2006 when you want to bring ECW back and do the same things that we did in the early 90s well the difference is the people saw it already and it is not new."
For this and every other episode of The Two Man Power Trip of Wrestling please subscribe to us on iTunes, Podomatic, Player FM, Earpeeler and Tune In Radio. As well as follow us on Twitter
@TwoManPowerTrip or hit up www.tmptofwrestling.com