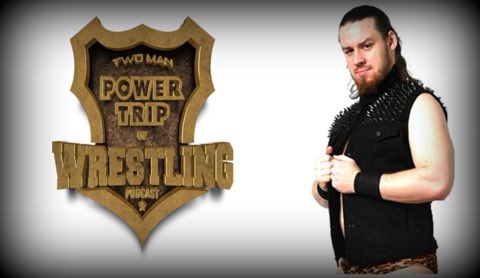 Two Man Power Trip of Wrestling episode #249 welcomes the son of wrestling legend "Fit" Finlay as New Japan Pro Wrestling's "Celtic Prince,"
David Finlay
joins the show. Finay (who also coincidently loves to fight) talks learning from his Dad before heading to New Japan Pro Wrestling as well as the success he's seen making a name for himself in Japan. The full episode is available for download at this link.
Full Episode Download Link:
https://www.podomatic.com/podcasts/tmptow/episodes/2017-03-09T21_00_00-08_00


David Finlay On Wrestling In The Tokyo Dome, Teaming With Ricochet, 6 Man Championship:
David Finlay On Learning From His Dad, Teaming In His Debut, Having His Own Style:
What made him follow in his family's footsteps becoming a 4th generation star:
"I was always around it and I was immersed in my Dad's profession since I was born basically. There are pictures of me as a six week old baby hanging on to the bottom rope and my Dad is just right in front of me looking at me so I guess it kind of foreshadowed with my Dad kind of behind the scenes now and I'm the one in the ring but still coaching me from the side lines. But it is everything that I've ever wanted to do from as long as I can remember and I never changed it and always wanted to do it."
How his Dad (Fit Finlay) has played such a huge role in his career:
"It's helped me in every aspect obviously in the ring itself but also out of the ring it has been it's most valuable. Obviously my Dad is my hero. I think he is the greatest guy that has ever walked the planet I have had a girlfriend the entire time I've been in Japan so learning from him how to handle a relationship while on the road and how to handle your money, how to handle yourself professionally, locker room etiquette and all of that stuff and teaching me how to wrestle (that's the obvious one) but teaching every aspect of this business he's been such a help."
Getting to team with his Dad in his pro wrestling debut:
"Not only was it special to be in the ring with my Dad but also to be in the ring with Danny Collins and Robbie Brookside. That match was actually bittersweet for me. My Dad was going into that match retiring and the way it came about was he came up to me one day and said he thought he was done wrestling. He was getting more joy out of producing and he came up to me and said I think I'm done but do you want to tag together? I hadn't had a match yet so I said sure not actually thinking it was a serious thought. Sure enough two weeks later he said we were going to Germany and about three weeks out (from the show) I said - "Dad I don't know how to wrestle yet" and even though I grew up with a ring in my house he put me on a crash course and we just wrestled and when it was over and done it was bittersweet. I remember being with my Dad in the ring and fighting back tears because he was my hero and I was never going to get to see him wrestle again. After the match he whispered in my ear that the torch was now in my hands."
Winning the NEVER Openweight 6-Man Tag Team Championship:
"It is by far the greatest thing I've ever done. It was fun, I loved it and I was able to fly my parents out and they got to watch me wrestle and actually be at the building in the crowd watching me wrestle. Before I went to England and even before I went to Japan in like my 8th match they saw me super early in my career and now you fast forward and they are watching me wrestle in the biggest moment in my career in front of 25,000 people in a title match. The fact that I could fly my Mom out alone was surreal to me and the fact that I had the support of both my parents there that night was so special for me. It is by far the coolest thing I've ever done in my life."
Management teaming him with and being champion alongside Ricochet and Kojima:
"I really felt like I had their trusts. Grated, my year last year was a lot of being the replacement guy. In the Best of The Super Juniors I wasn't originally intended to be in it in 2016 but the Young Bucks got hurt and they needed a replacement so I did it and it gave me an opportunity to show that I have improved a whole lot more than you think. In the trios title thing in Kobe they just came up to me and said you are the replacement in that match. I had literally been out of the dojo for three weeks and it was my first tour not being a "young boy" and it was a title match that we ended up winning. It was just cool to know that they think I am capable and that they trust me."
For this and every other episode of The Two Man Power Trip of Wrestling please subscribe to us on iTunes, Podomatic, Player FM, Earpeeler and Tune In Radio. As well as follow us on Twitter
@TwoManPowerTrip or check out www.tmptofwrestling.com