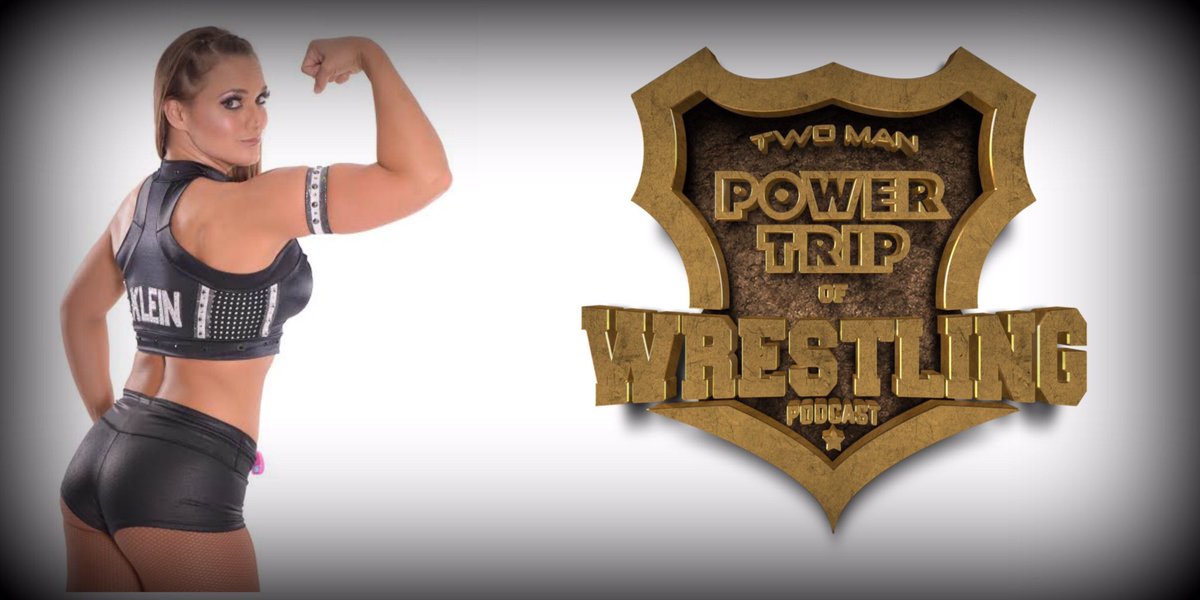 In the second half of The Two Man Power Trip of Wrestling's huge episode #254 (first featuring Pete Gas) we are joined by up an coming Ring Of Honor's Women of Honor star,
Kelly Klein
as she discusses her huge match with Deonna Purrazzo at Ring Of Honor's Supercard of Honor XI tonight in Lakeland, Florida on iPPV. You can head to
ROHWrestling.com
for more information.The full episode is available for download at this link.
Full Episode Download Link:
https://www.podomatic.com/podcasts/tmptow/episodes/2017-03-31T05_43_13-07_00


Kelly Klein On Women's Wrestling In ROH, The Women Of Honor's Revolution, Breaking Stereotypes:

Kelly Klein Wants To Work Every Women's Wrestler On The Planet, Career Goals, Kimber Lee:
Ring of Honor's role In The Women of Honor's wrestling revolution:
"As a woman who has always been very independent and driven it's kind of strange for me because of the way I was raised and the way my family always was, the women were are always seen as capable individuals and we actually ( I have an older brother, an older sister and a younger sister) all of us have always been very competitive with each other and ourselves and other people male or female."
"It is like some people are starting to realize what some of us have always known. It is great to be a part of that and to get to start and see some of that recognition and that acceptance. Something that is really important to me is what I am leaving behind and we are all leaving behind for the young kids now. For me it's always very important that the young girls can look to me and look to my colleagues and see that they do have infinite options and they don't have to be pretty and that is all they can be. If they are an athlete or they are tough doesn't mean they are not pretty and if they are pretty doesn't mean they aren't smart and they can be all of those things they want to be and none of them are mutually exclusive."
Her own personal goals being fulfilled while growing her career:
"I don't think I've ever told anyone this but when I first started wrestling i never thought I would be good enough to work for Ring of Honor because it was held in such high regard and you had to be so good to be there. At the time I was training I just knew I wasn't there yet and it seemed so far off that I could be a part of that. In my mind and part of because of the culture that I think really existed everywhere but also definitely in the past years in WWE there has been this culture of just a very limited shelf life for women where you can have a man competing into his 40s and into his 60s but there were very, very few far between instances where a woman in her late 20s into her 30s or into her 40s would be competing. To me when I was training it was like well I only have so many years and I have to get that good and it seemed like a real insurmountable challenge. Over the last couple of years I've been very fortunate to have that opportunity with Les Thatcher and my knowledge and my foundation and everything just grew leaps and bounds."
Looking forward to Supercard of Honor XI vs. Deonna Purrazzo and where she can take her undefeated streak if she wins her match:
"There are so many women and because of what is going on with women's wrestling there are a lot of women that have wanted to become involved with wrestling and are starting to see there can be a place for them and a lot of women that maybe thought there wouldn't be an opportunity for them. Now they are seeing they can really do this and we are just getting so many more women that are stepping up. There are so many amazing women out there and maybe some I don't even know about yet and I want to work with everybody that I can and I want to go everywhere I can and push myself and challenge myself and the great thing about wrestling is it is a collaboration with the way I might work with one person is going to be different from when I'm with someone else and every time I step in the ring it is going to be a different part of me."
For this and every other episode of The Two Man Power Trip of Wrestling please subscribe to us on iTunes, Podomatic, Player FM, Earpeeler and Tune In Radio. As well as follow us on Twitter @TwoManPowerTrip or check out www.tmptofwrestling.com