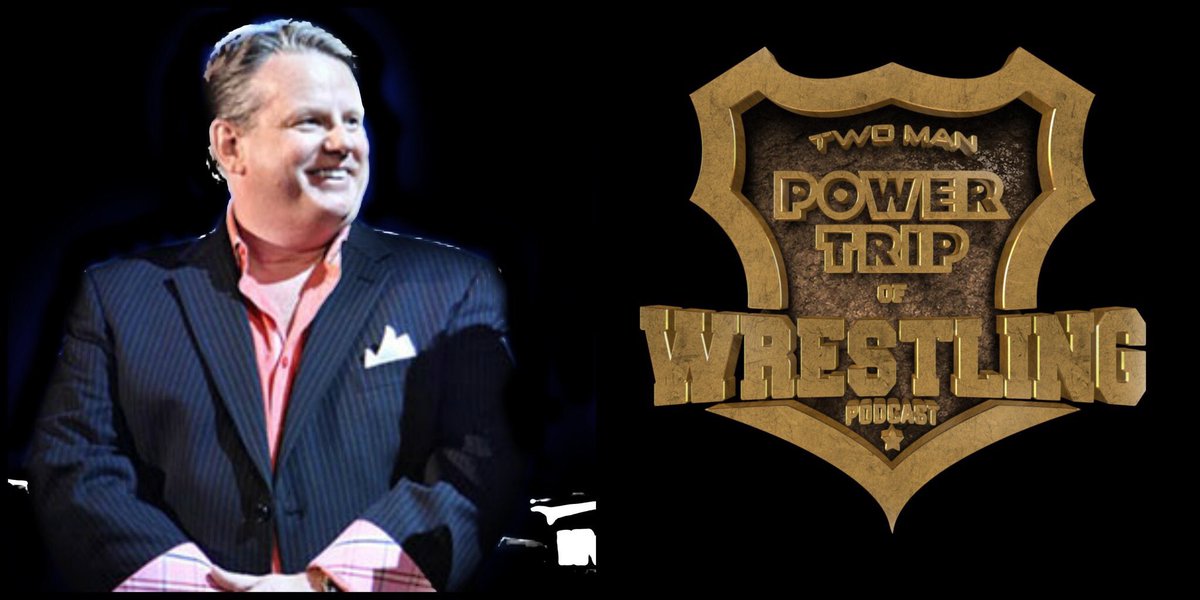 IMPACT Wrestling's own and host of the Something To Wrestle With Podcast,
Bruce Prichard
joins The Two Man Power Trip of Wrestling. While being the force behind a massive wrestling podcast revolution, Bruce has been able to step back into the world of IMPACT Wrestling and help bring awareness to a product that has completely reinvented itself over the last year. The full episode can be downloaded at this link.
Full Episode Download Link:
https://www.podomatic.com/podcasts/tmptow/episodes/2017-06-22T21_00_00-07_00


Bruce Prichard On His Return To IMPACT, Excitement In The Air, Slammiversary:
Bruce Prichard On Gaining Vince McMahon's Trust, Brother Love's Heat, Being Seen With No Makeup:
What Slammiversary means to the future of IMPACT Wrestling:
"I've got to tell you that I am more excited looking at Slammiversary as the first day of IMPACT Wrestling's life. Just looking back on the last 15 years of TNA there is a lot of history and a lot of people didn't think it would last 15 years and it is more of a launching pad to go forward for another 15 years at that is the exciting part."
What fans can expect and the buzz surrounding Slammiversary:
"I think that they (the fans) can expect a lot of action and a lot of firsts. It is a culmination. It is the "big show" and one where finally it is on pay per view and a lot of scores are going to be settled. I think the one I am most excited about is going to be Lashley and Patron."
His return to IMPACT Wrestling playing a part in the revival of the product:
"It is absolutely incredible. My partner and I started the podcast and I had said that nobody wants to listen to me talk for three minutes much less three hours and the response has been overwhelming. From that response came the invitation to kind of help out at IMPACT Wrestling and consult with them and be an on air character for these guys and have some fun. I've got to tell you that it is a lot more than I bargained for and I am having an absolute blast. The response has been incredible thus far."
How did he gain Vince McMahon's trust and stay as his "right hand man" for nearly 25 years:
"I'll tell you what he used to say and it was there was nobody who disagreed with him more. Which is kind of funny because a lot of people always classify someone who has been there that long as a kiss-ass. I have a completely different viewpoint of the business than Vince does and a lot of opinions we share I think over the years we grew to kind of think the same way on some things. For the most part, I disagreed with him a lot and would disagree to with him to his face and we had a lot of knockdown-drag outs. I learned through the years how to travel through those land mines of arguments and Pat Patterson had said to me that I should maybe choose my words a little better and I incorporated the two most important words in my vocabulary which are "what if". So instead of saying something sucks and your idea is horrible to just think about it for a minute, try it on and offer an alternative as "what if" we did it this way and it is a lot more palatable than that sucks. He never had to wonder where I stood on something. I'd tell him point blank and never had to sugarcoat it."
His association with the debut of The Undertaker and anticipating Undertaker's success:
"I would like to say yes and that I saw him as a huge star and someone that would really be big but I don't think anybody anticipated the icon status that he's achieved. That is all him and I am extremely proud of him and very proud to be associated with that legacy. That is something I point to with pride and pretty happy to be a part of."
His last appearance as Brother Love in 2003 and the segment reuniting him with The Undertaker:
"When I hung it up in 91, I never thought of coming back. I always looked at it as he had a great run and there was 3 1/2 years where he was on every single television show every week. No matter how good the character is that can be tedious. He needed a rest and needed to go on the shelf. I think there was a part of me that definitely wanted to come back with that character but it had to be the right time and the right place and usually it was somebody else to pitch it and I think in certain situations it worked and the last time I did anything I was with The Undertaker coming out of a box and to me that is one of the greatest Brother Love performances I ever did for a variety of reasons. One is getting to work with The Undertaker in that role as an adversarial and it was the first time that my kids ever got to see me on TV."
"I jumped in his arms and refused to let go. He just stood there and said to me: "I ain't holding you." And I thought "DAMN!" And I finally gave up."
For this and every other episode of The Two Man Power Trip of Wrestling please subscribe to us on iTunes, Podomatic, Player FM, Tune In Radio and The IRW Network, The EXCLUSIVE home of The Triple Threat Podcast featuring Shane Douglas & TMPToW. As well as follow us on Twitter @TwoManPowerTrip and check www.tmptofwrestling.com