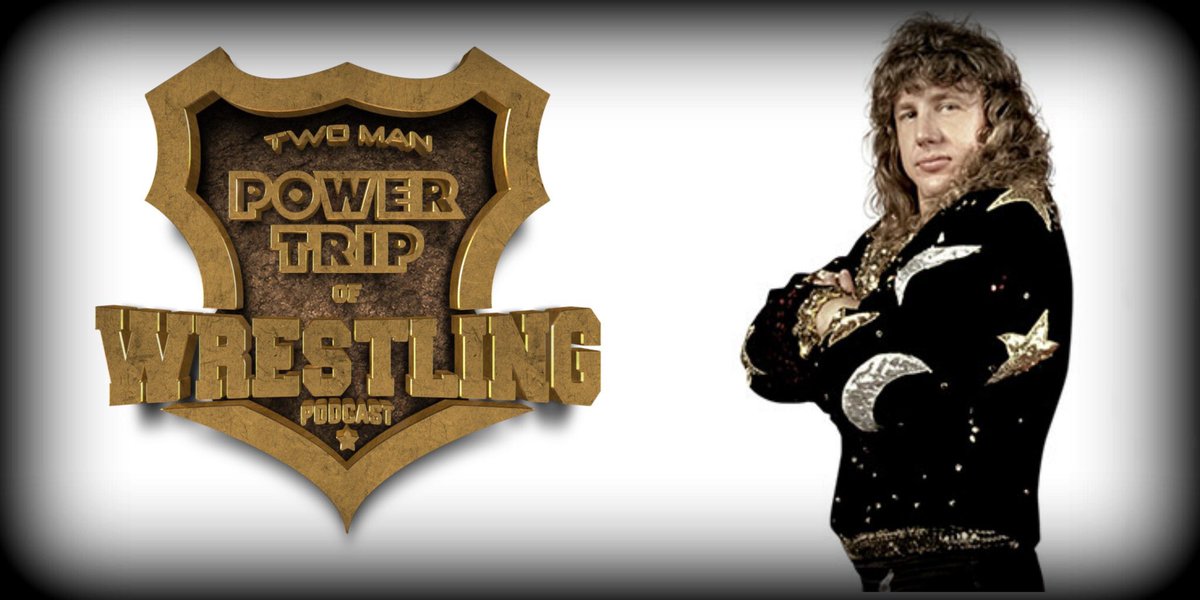 Today The Two Man Power Trip of Wrestling is powered by Captain's Corner. For episode #303 we welcome back
"The Doctor of Desire" Tom Prichard
. Discussing his upcoming appearance at the Legends of the Ring-Pro Wrestling Fanfest on October 21st in Monroe, New Jersey, Dr. Tom takes John and Chad into his office to discuss his legendary blood-feud with "The Dirty White Boy", the hidden gem that is Smoky Mountain Wrestling and his second career in the wrestling business as one of the most accomplished and acclaimed trainers the industry has ever seen. Highlights on the interview are enclosed. The full episode is available for download at this link.


Full Episode Download Link:
https://www.podomatic.com/podcasts/tmptow/episodes/2017-09-18T21_00_00-07_00


Dr. Tom Prichard On John Cena Vs. Roman Reigns:
Dr. Tom Prichard On Jim Cornette And Smoky Mountain Wrestling:
On the Roman Reigns / John Cena "shoot" promos:
"I think what they are doing is great because they are saying things that you aren't supposed to say. That is great because when you get real with each other and look, the guys know what everybody is saying and they know what is out there (in the media) because it is their job to know. You have to be aware. Roman is aware that the people think he's not deserving, Cena is aware that people boo the sh*t out of him every week. Why not address it? And they are, they are addressing it. People say they are shooting on each other and if they are than so what? It is a way to get Roman sharper, it is a way to get Cena sharper and look at how Lawler did it for so many years and Terry Funk did it for so many years.
"Everybody has been told, even on the front of the network we are told that these are actors portraying a role but John Cena and Roman Reigns are shooting on each other. Really? They are shooting? What is a shoot? I haven't seen a shoot in the ring in I don't know when if ever. If they want them to shoot and that is what people think they are doing than that is great because that adds a little more interest to it. Brock Lesnar is the most real guy they've got and if he was shooting on everybody I guarantee you that he wouldn't have the title and they wouldn't get in the ring with him."

On Jim Cornette:
"I enjoyed every minute with him. Even when I made him mad and I did make him mad one night in Johnson City when I destroyed his racket but it was my fault and I take full responsibility. I have nothing but love and respect for Jim Cornette. He has every right to have his opinions and I don't agree with everything he says or does but that doesn't matter because I respect him so much for what he's done and the commitment he's put into everything and not just into Smoky Mountain but even today. He is talented, he is smart, he does understand parts of the business that people may not think he understands. I have nothing but respect and admiration for Jim. If it wasn't for Jim, I wouldn't have ever had the chance to do the things that I did."
Being asked by Cornette to team with Stan Lane in Smoky Mountain Wrestling as the Heavenly Bodies:
"I was flattered and I was humbled and I was thrilled. I knew Stan before and I always got along with Stan. He was funny, he was entertaining and he was a good worker so I thought what a great idea. I had no problems coming in and I wrestled in Knoxville before so I knew the town and the people in East Tennessee are old school wrestling fans and still remember Whitey Caldwell and Ron and Don Wright still to this day. Once I realized that Jim was serious and this was the real deal I went ahead and gave my notice (to Jerry Jarrett) and came in. I was thrilled and thought it was a great idea."
Transitioning from Lane to Jimmy Del Ray and issues they had while teaming:
"At that point in my life and my career I had already pretty much had my own way of thinking and Jimmy Del Ray and I were two different people backstage. In the ring I couldn't deny he was a great worker but when we would go backstage I was really was the kind of guy if I went out I'd like to scope out the place and lay back and let the action come to me if there was any to be had. Jimmy was the kind of guy who wanted to go in blaring and full speed ahead and let everyone know that he was there and be in the center and be the attraction, well that is okay if you are going to be cool. There were moments when he would drink where he would be a little over the top and it just wasn't my scene. We just were two different people but a lot of it was me and I had my issues and I just was one of those guys that wanted things my way and if you didn't want to do things my way than that is fine to do it your way but stay the hell away from me because I've got a system. At that time while I was in my early 30s I just didn't have time for a lot of "other things" that somebody else wanted to do and I wanted to my thing and Jimmy wanted to do his. But the great thing about us was that in the ring we worked great and when we went backstage we just kind of did our own thing."
Cutting his hair to become Zip of the Bodydonnas:
"I had that hair for so long it was kind of like a shield and it was like my flag against society and now I don't have that flag to wave and I don't have that flag to hide behind and I had to be exposed to the world. I wasn't very friendly to the world and the world wasn't very friendly back to me but I couldn't hide my eyes or my scowl or look down because everybody could see me in plain sight. It is like being at sea for so long and all of a sudden you have to come to shore and walk like you were on some steady ground. It is not so easy and you have sunny days and cloudy days but now I have no shelter, that is what it was like. I felt naked."

The failure of the Bodydonna Zip gimmick:
"Did not enjoy it. Hated every minute of it, I loved Chris Candido and I loved being around Chris because Chris was a good kid and very passionate about wrestling but I hated the gimmick. I didn't know the gimmick and it wasn't me. At that time in my life all these issues were adding up that I had just got to the point where it was a job and when you look at professional wrestling as a job it is going to suck."
"I hated being a Bodydonna because it wasn't me. I couldn't make it work. When they wanted to take away Sunny and give us Cloudy, Vince told us in a meeting we had in Madison Square Garden (of all places) and Candido said (to Vince) that is the stupidest thing I've ever heard. I thought, oh jeez don't say anything but it was the stupidest thing I'd ever heard and I should have spoken up too but they didn't care so I thought well screw it anyway. It was a terrible gimmick, it was a suck gimmick and it was a drizzling suck-ass gimmick. Thanks for asking (laughing)."
For this and every other episode of The Two Man Power Trip of Wrestling please subscribe to us on iTunes, Podomatic, Player FM, Tune In Radio and The IRW Network, The EXCLUSIVE home of The Triple Threat Podcast featuring Shane Douglas & TMPToW. As well as follow us on Twitter @TwoManPowerTrip and check www.tmptofwrestling.com