Killer Kross @realKILLERkross Calls Disco Inferno @TheRealDisco "A Genius" And "One Of The Smartest People He's Ever Met"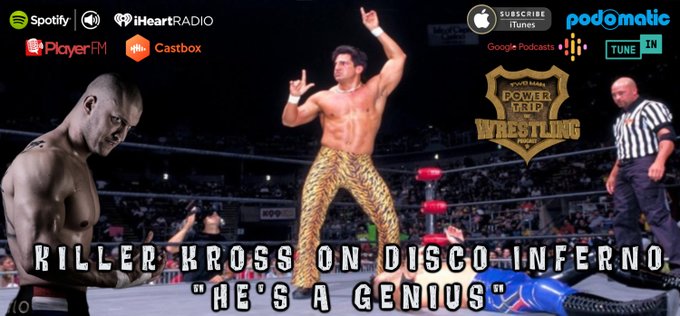 Days before signing with WWE, Killer Kross appeared on the TMPT Empire's Feature podcast to discuss what life was like as wrestling's top free agent. During the conversation, Kross remarked that
Gilbertti
AKA The Disco Inferno has been the most helpful influence on his career thus far and even went as far as to label him as a "genius".
The full episode can
be downloaded at this link.
Killer Kross On Disco Inferno's IMPACT On His Career: "He's A Genius":
PLEASE CREDIT THE TMPT EMPIRE FOR THIS TRANSCRIPTION:
"I will tell you this. The very first match I ever had in this business was six years ago and it was in Las Vegas at the Sam's Town Hotel and Casino at Future Stars of Wrestling and it was a battle royal. Once I got through the curtain and I walked down to the stage, the very first person that met me at the curtain was the Disco Inferno. He went out of his way not knowing who I was or where I came from to give me critiques, help me clean up and sharpen my work and began to invite me into his classes where he was teaching. He never asked me for anything. I'm not trying to blow his image here but he's one of the smartest people I've ever me. Especially in general and in this business."

"He loves to work people. People have no idea how smart that guy is. He is so comfortable with who he is in his real life that he has no problem playing the buffoon and he does it to undermined people. He reminds me of the Court Jester. In a medieval setting, everyone thinks the Court Jester comes in and he's the fool and he stands in the middle of the room and everyone points and laughs but it's the Jester that dictates who is laughing in the room and he plays the room like a puppet. The Court Jester is the most powerful person in the room...he (Disco) is a genius and he has been a mentor to me. I wouldn't be where I am right now without him."
Since debuting in January 2015 and named one of RollingStone.com's "18 Pro Wrestling Podcasts To Follow", The Two Man Power Trip of Wrestling has become a strong content provider in the podcast medium. Hosts John and Chad conduct the most in-depth interviews in the entire genre of Professional Wrestling. TMPT also co-hosts podcasts with ECW Legends, "The Franchise" Shane Douglas: Triple Threat Podcast and "The Queen of Extreme Francine's "Eyes Up Here", " Taking You To School With Dr. Tom" as well as "JJ: The JJ Dillon Podcast". Follow @TwoManPowerTrip @ChadIanB & @The3ThreatPod on Twitter for Episode Previews and Show Coverage. Subscribe on YouTube for Interview Highlights and BEST OF Clips.